IoT application has an enormous impact in different industries nowadays. Since the pandemic COVID-19 outbreak in 2020, IoT technology becomes a necessary tool for everything. However, with many years of development, IoT technologies and solutions have gradually matured but the applications are not able to be used as everyone expected. The reason behind it is that most of the IoT solutions are often created by startup teams, which are likely to run out of resources in the early stage of development and unable to proceed to pilot production or field testing, not to mention mass production, rapid replication and application scope expansion.
In order to help IoT startups overcome challenges and successfully bring their products to mass production, IoT Service Hub was launched under the organization of Institute for Information Industry (III) and with the support from Industrial Development Bureau, Ministry of Economic Affairs. IoT Service Hub has assisted more than 300 startup teams since its establishment. A success story among them is Oready Innovation Lab's O-take high-end virtual reality (VR) gloves.
Before joined IoT Service Hub, O-take was made by a motorcycle glove connected to a development board without ID design to cover the exposed wires. IoT Service Hub introduced the development kit DSI5168 (RTL8711 AM chip) and brought in a service team to help with PCB design and layout (Chyi Jiunn Technic and SMTEK) and ID/mechanical design (Omima Design) to make a prototype glove with patented approved. In order to process the prototype to mass production, IoT Service Hub introduced IoT Integrated Service Center (IisC) of Industrial Technology Research Institute, which co-operation with Oready to modify the finger sensing performance, battery and ID design. Although O-take was under the modify stage to mass production, it already attracted some buyers to use it as a trial marketing strategy.
Three major services bring IoT innovations to mass production
According to Ming-Hung Tsai, director, Digital Service Innovation Institute (DSI), III, the flourishing startup scene has given rise to a great number of incubators and accelerators in Taiwan. They mostly guide startups from the perspective of business operation and management, provide education training or free co-working space, or simply serve as matchmakers bridging startups and vendors. In contrast, IoT Service Hub is positioned as an accelerator that drives IoT solutions toward mass production and therefore offers services that are distinguished from conventional startup incubators. Its services centered on the idea of being a hub that aggregates co-working space and incubator guidance. The goal is to offer comprehensive guidance to help startups with promising potential optimize their creations toward marketable products, which are then handed over to IisC for further enhancement on functionality and performance until they can proceed to mass production. In sum, IoT Service Hub provides three major services – a project manager, IoT service team and domestically produced IC development kit.
After a startup submits an application to join IoT Service Hub, a project manager will make an initial assessment to determine which stage of development the startup's product is in, for example, conceptualization, prototyping, small-volume pilot production or field testing, and what challenges or obstacles the startup needs to overcome. The project manager then finds vendors from the IoT service team that can help the startup tackle the challenges or obstacles and continue with their product development.
The IoT service team now comprises more than 200 vendors across wide-ranging sectors. Capable of providing assistance in industrial / mechanical design, circuit design, firmware development, prototyping, certification and marketing, the team can help startups resolve whatever problems they run into during the product development cycle.
IoT Service Hub's domestically produced IC development kit accelerates the progress to mass production
IoT Service Hub's domestically produced IC development kit combines the strength of Taiwan's IC industry and offers cost effective development toolkits to help startups to address the cost issue in the commercialization process. Tsai notes that startups tend to put efforts on developing the product without considering the pricing for the final marketable product. More often than not, they don't realize the cost goes too high until the stage of mass production. Then, they have to go back to searching for cheaper IC chips and try to reduce the cost so that their product can be made available at an affordable price acceptable to potential customers.
IoT Service Hub's domestically produced IC development kit includes a development board made up of IC chips from Taiwan-based IC suppliers. Startups will be able to incorporate IC chips with a cost effectiveness right from the early stage of development. They only need to concentrate on miniaturization and exterior design when proceeding into mass production.
Aside from a cost effectiveness, Tsai highlights three more advantages enabled by IoT Service Hub's IC development kit integrating domestically produced IC chips:
First, the kit is based on a general-purpose ARM microcontroller featuring low power consumption as well as support for Wi-Fi, Bluetooth and NB-IoT communication to accommodate IoT application development needs targeting a diversity of fields.
Second, local technical support teams offer not only real-time services but also all kinds of reference designs, including how-to guides for DSI5168, DSI2598, DSI2599 and DSI5188 development boards and prototype development example documents or videos to lower the technological barrier for product development and shorten time-to-market.
Third, IDEAS Chain, an IoT data platform, provides an independent cloud space for data collection. It is open to connection by an unlimited number of devices, supports multiple sensor interfaces and provides device management, graphical user interface and workflow script editor for startups to easily meet their cloud-based data gathering and processing needs during their IoT product development.
Agile and iterative development makes IoT products more in line with market needs
IoT Service Hub has guided more than 300 startups. To help the teams make products that are more in line with what the market needs, IoT Service Hub launched the "Enterprises raise problems; startups propose solutions" initiative in 2020. Based on future industry development and market needs and themed on smartization for specific fields, IoT Service Hub will interview enterprises to find the problems and pain points they encounter in the field, then search for solutions from the startups' products and identify and guide teams with promising potential. Through match-making events, enterprises can spot suitable products and further verify if the products match their needs. On one hand, enterprises can reduce or eliminate the trouble of incorporating digital transformation technologies themselves. On the other hand, startups can design products with market needs in mind right from scratch and keep the costs of trial-and-error to a minimum.
Tsai emphasizes that going forward, IoT Service Hub will incorporate the agile and iterative development paradigm, where in startups' products will undergo field testing so that adjustments to product functions and designs can be made to cater to field requirements and the development cycles for IoT products can be shortened. The aim is to create a diversity of complete IoT solutions, which can then be quickly customized for use in different fields. Furthermore, IoT Service Hub will also actively connect with international markets and include the challenges facing overseas channels and fields in the scope of IoT solutions to be developed while forwarding the feedback from international markets to Taiwan-based IC suppliers. It is hoped that these efforts will not only help drive startup teams' IoT innovations to mass production but also help Taiwan-based IC suppliers build up their competitive edge and global presence, enabling them to capture the rising wave of IoT opportunities.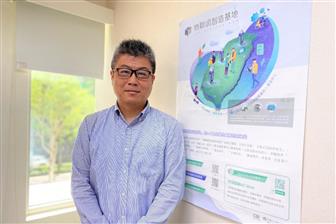 Ming-Hung Tsai, director, Digital Service Innovation Institute, Institute for Information Industry